Baltimore City Community College
2901 Liberty Heights Avenue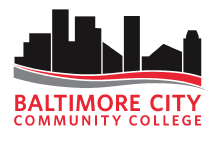 Website: https://www.bccc.edu/bccc
At Baltimore City Community College (BCCC) we meet students where they are through personal attention with the support of dedicated faculty. Each year we educate nearly 14,000 students from Baltimore City, the State of Maryland, and the world.
BCCC is a State-sponsored, comprehensive, degree-granting community college with five learning sites in Baltimore City. We offer 37 associate degree programs and 17 certifications in high-demand fields, affordable tuition and flexible classes scheduled to meet students' needs.
At BCCC students receive the quality education and specialized training critical to get good jobs, to transfer to four year institutions and to upgrade or acquire new skills to stay competitive in today's changing marketplace.